Danas, kako Zagreb izgleda Černobilski, a i s time kako sam u zadnje vrijeme mnogo igrao ovu igru, napisat ću nekoliko riječi o njoj (Tko zna, možda se nekome svidi!).
Igra u pitanju jest S.T.A.L.K.E.R.: Call of Pripyat, te ću također razgovarati o super overhaulu za igru zvan MISERY. S time, možemo početi
ŠTO JE S.T.A.L.K.E.R.?
Kad bi Vas dijete pitalo "E tata kaj je to STALKER?" malo bi vas zbunjeno gledalo kad bi ste rekli da je to igra gdje "ubijamo strašne mutante i izbjegavamo anomalije u post-černobilskom razdoblju okolice Ukrajinskog grada Pripyata i Pripjatske močvare". A možda i nebi, možda je dijete pametno pa zna geografiju Ukrajine.
Šalu na stranu, S.T.A.L.K.E.R. se doista odvija u post-černobilskom razdoblju u Ukrajini gdje Vaš najgori neprijatelj nije zapravo čovjek, nego i okolina. Nekoliko desetaka godina je prošlo od strašne katastrofe u Černobilskom nuklearnom reaktoru, te je to pretvorilo okolne gradove, sela, močvare i ostala mala naselja u radioaktivnu pustoš. Danas, ta pustoš naziva se THE ZONE (ilitiga "Zona" po naški). U toj zoni žive fina i ugledna gospoda od bandita, mutirane životinje, ljudi ili ostala nezamisliva sranja poput gravitacionalnih, vatrenih, otrovnih (ili kombinacija od navedenih) anomalija. Glavni stanovnici Zone su zvani "Stalkeri", tj. ljudi koji voljno idu u zonu kako bi tražili artifakte iz te radiokaktivne rupe koji su u vanjskom svijetu vrlo vrijedni.
Kao sam serijal igara, prva igra zvana S.T.A.L.K.E.R.: Shadow of Chernobyl izašla je daleke 2007 godine, i smatra se daleko najboljom igrom (vidljivo po iznimno visokim ocjenama na STEAM-u ili Metacriticu), te se smješta u sličnu zonu kao i ostala dva serijala. Tu se radnja odvija oko "Chosen one" stalkera zvanog Strelok, čiji je zadatak naći "Wish granter", mistični stroj koji navodno ispunjava svaku želju, ali kroz njega se mora doći kroz polje "brain meltera" koji su postavljeni na vanjske granice starog Černobilskog reaktora. Moram napomenuti kako svako malo Zoni dođe do pročišćavanja, te tako nastaju emisije, gdje se višak smrtne radijacije i freona izbacije u zrak izgledom nasilne, crvene oluje koja je opasna po zdrav život ako nisi unutra ispod sloja cementa ili cigle ili kamena. I tu nastaje avantura.
Drugi nastavak zvan S.T.A.L.K.E.R.: Clear Sky, iako je doveo mnogo super i kul inovacija (modiranje oružja, poboljšana grafika i nove kul zone) smatra se najslabijim nastavkom od tri ponuđena. Iz osobnog iskustva govorim da se ništa ne propušta ako se jednostavno preskoči.
Treći nastavak, na kojem je danas i cijeli fokus zove se S.T.A.L.K.E.R.: Call of Pripyat. U igri smo ovaj put smješteni u Zoni kao U.S.S. (Ukranian Special Service) Bojnik Degtyarev, koji je bio poslan unutra s ciljem da sazna koji se vrag dogodio Ukrajinskoj operaciji Fairway.
CALL OF PRIPYAT, PRIČA
Kao što sam i rekao, Bojnik Degtyarev stiže u zoni "andrkavr" te pokušava saznat koji se vrag dogodio operaciji Fairway. Operacija Fairway je bio pokušaj Ukrajinske vlade da preuzme natrag Černobil nakon što je Strelok u prvom djelu isključio brain melter koji se nalazi na granicama. Černobil su držali fanatici zvani "Monolith" koji su od radijacije valjda ludi ko puška, i štuju prokletu zonu kao da im je Bog.
Kao sam početak operacije, pet komada Mi-24 su bila poslana u Zonu prenoseći trupe koje bi vršile invaziju, ali su se svi srušili iz nepoznatih razloga. Ekipa većine helikoptera se smatra mrtvima ili nestalima, te je tvoj zadatak otkriti zašto su se srušili, kako su se srušili, i gdje je nestala ekipa.
Kroz to ćete se morati provlačiti kroz 3 relativno velike zone (sve koje su odvojene loading screenom). Da se shvati o ćemu govorim, evo slika odmah dolje.
Prva mapa Zaton, nalazi se sjeveroistočno od grada Pripyata, te je karakteristična po velikim močvarama i podzemnim špiljama
Druga mapa Jupiter, nazvana je po velikom kompleksu zvan Jupiter (dolje desno) u kojem su se odvijali eksperimenti na anomalijama i mutantima iz Zone
Treća mapa, Pripyat, gdje se nalaze ostatci propale operacije Fairway i glavno sjedište Monolith fanatika.
GAMEPLAY
Gameplay nemodirane verzije S.T.A.L.K.E.R.A. bio je tipičan third person shooter, samo što je u kontekstu pušaka bio malo bolje dizajniran od ostalih. Oružja poput AK-74M, RP-74, RPG-7 ili zapadnjačkog oružja poput M4A1, M24 se ponašaju onak kak bi trebale. Trzaj je tu, varijacija oružja je solidna a i svaka ima osjećaj da radi onoliko štete koliko bi trebala.
Tu su klasični health bar i stamina bar kao i u svakoj drugoj igri (stamina bar odlučuje koliko dugo možeš trčati), te također postoji potreba za jelom i za pićem (U vanilli nije tako naglašena). Po mojem mišljenju vanilla igra je još uvijek prelagana, čak i na velikim težinama. Tu u igru dolazi modifikacija o kojoj ću kasnije govoriti.
GRAFIKA
Igra je rađena na prastarom X-Ray engine-u (Kreacija samog ukrajinskog studija), te grafike su malo zastarjele. Ništa kao što bi ste očekivali danas od modernih igara ali se drži unutra. Opet, dok Vanilla grafika izgleda meh, modifikacije su opet tu da spase dan.
MISERY MODIFIKACIJA
Idemo od početka? Što je misery?
Misery je potpuni overhaul za S.T.A.L.K.E.R.: Call of Pripyat koji cilja donijeti dubinu, realizam i brutalnu horror atmosferu u cijelu igru. Jedino što ostane originalno od cijele igre je priča. Mod je inače inspiriran od filmova kao The Road ili I am Legend, i poput igara kao Metro 2033.
Dodano je mnogo novih stvari, a to između ostalog uključuje:
-Hrana
-Oružje
-Random objekti
-Vremenske nepogode
-Novi efekti pri pucanju
-Potpuno overhaulan sustav medicine
-Droga
-nova ekonomija
i mnogo drugih stvari.
Basically, što Misery radi je baci vas u jadnu situaciju koja postaje svakim danom sve jadnija gdje imate jedan primarni zadatak: preživjeti. Sve stare navike iz vanilla igre morati će biti odbačene kako bi se priviknulo na novi sustav koji će vas testirati, razbiti ko mila majka i bacit vas fino u smeće s tim.
Igra se može početi na nekoliko različitih načina. Prvi način jest početi je na klasični vanilla način, uz nekoliko promjena. Umjesto standardnog loadouta koji se dobije na početku igre, sad postoji opcija izabrati KLASU s kojom ćemo se spawnati. Svaka klasa je dobra u nečemu, npr. Snajper zna koristiti jako dobro sačmarice i naravno snajpere ali nema pojma koristiti jurišne puške. Assaulter zna jurišne puške i pištolje i slično. Druga alternativna opcija za start igre zove se "Black Road", gdje vidite jedan bolesni live-action klipić koji govori kako ste basically goli i bosi zapeli u kući okruženoj zombijima, dok je mrkli mrak, a vi imate samo svoju bateriju sa sobom.
Što se tiče hrane, svaka klasa ima određen metabolizam isto. Što to znači? Snajper koji se može danima provlačiti po linijama bez puno hrane ne treba puno jesti, te kad jede baš ga briga je li to što unosi u sebe junk food (zone-produced hrana poput odreska od mutiranog peseka) ili čista hrana (pečeni kruh, limenke hrane), dok Assaulter mora češće jesti i spavati zbog ekstra kalorija koje mu trebaju zbog nošenja teškog oklopa i naoružanja. Treća klasa, Recon, je bolja u šuljanju okolo i također je bolja sa raznim oružjima. Svaka klasa ima svoje statistike o tome koliko dugo može trčati, koliko visoko može skakati i slično.
Što se oružja tiče, tu su hrpa novih dodani, od modernih verzija Kalašnjikova, AN-94, do nekih zapadnih oružja poput FN F2000, G36, L85, te snajpera poput modificiranih verzija M24, AWP, Dragunov i slično. Od arhaičnih oružja dodani su PPSH-41, Kar-98k, M1893 zvan Mosin Nagant. Svako od tih oružja ima svoju korisnost u bilo kojem stadiju igre, zaviseći koji vam je playstyle.
Jedna stvar koja se stvarno mora istaknuti su vremenske nepogode i taj "Horror" osjećaj koji je dodan uz pomoć malog moda integriranog u Misery, AtmosFEAR. Tijekom emisija zone kad sve ide k vragu, sad STVARNO ide k vragu. Ekran se trese, trešte sirene za upozorenje te se na radiju stalno ponavlja ista poruka u monotonom ruskom glasu da se treba skloniti. U pozadini radija se čuju vrisci nepoznatih ljudi (ili onih koji su tad zapeli vani) sve dok se ponavlja ista poruka: "бежать.....бежать.....бежать....." .
Valja napomenuti da taj horror osjećaj daje i poboljšani vremenski sustav. Dok je u Vanilli većinom bilu sunčano s tu i tamo nekom kišom koja je pala, u Misery-u može biti sve od sunčanog, do teške magle, do monsunske oluje. Noć postaje istinska noć, gdje jedva vidite svoj prst ispred sebe, te bez pomoći svijetiljke ili NVG-a teško da ćete išta vidjeti.
Neprijatelji su vam opasni, a mutanti još opasniji zbog reworkanog oklopa koji teško da će više zaustavljati metke. Neprijatelji mogu popit malo više metaka u tijelo zaviseći kakav oklop imaju ali headshot je uvijek garantirani 1-hit-kill. Anomalije i psihološke opasnosti su jače nego ikad, te neke zone zahtijevaju jebenu pripremu prije ulaska.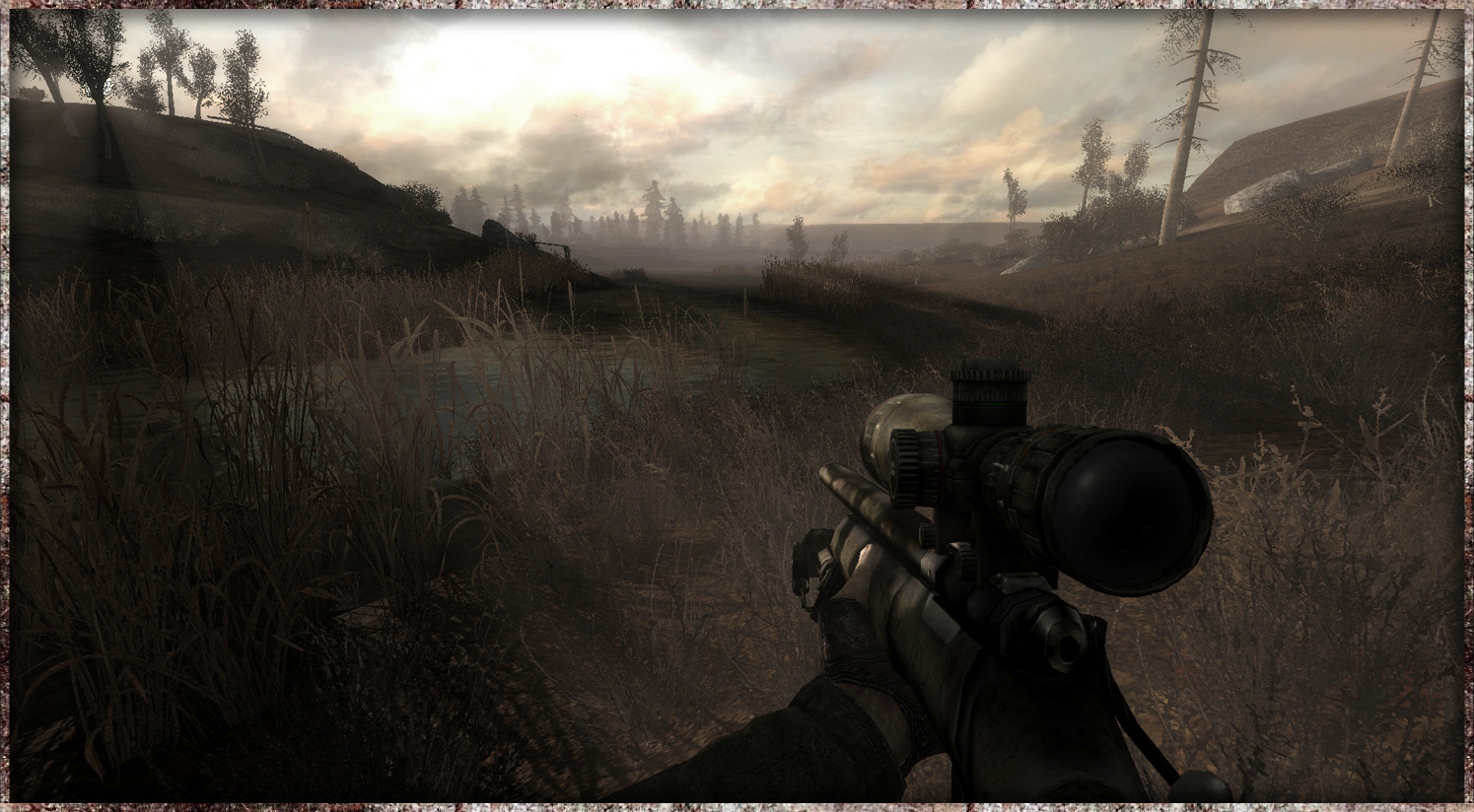 ZAKLJUČAK
Da ne duljim previše, igra je stvarno sjajna. Ako je ikad pokupite (sa steama jeftino ili od Poljske mafije sa g2a) svakako preporučam da ju odigrate barem malo vanilla, te kad skinete Misery da vidite koliko se puno zapravo 
promijenilo. 
Link za Misery mod: http://www.moddb.com/mods/stalker-misery/downloads/misery-v2-2-full



Moja glavna ocjena (vanilla) : 7/10
Sa Misery mod-om 10/10

"Remember S.T.A.L.K.E.R. , your shooter is your best friend, nobody else is."

PISANO DANA GOSPODNJEG 22.1.2018.

~Džejmi d Džu


---
Report Article