UVODNE RIJEČI
Pozdrav svima,
Autoriziran od strane svevišnjeg nam Perice Posavskog, odlučio sam započeti ovaj mali projekt, kako bi ostao dio zajednice kojoj sam se prije već dvije godine (kak vrijeme prolazi kaj ne?
) pridružio. Radi neaktivnosti u zadnje vrijeme koja je uzrokovana raznim vanjim faktorima koji sad nisu vrijedni spomena, ovo će biti moji način ostajanja u kontaktu s time da pridonesem nešto zajednici uz to.
U ovim malim kolumnama pisati ću o raznim igarama koje sam igrao u zadnje vrijeme, zanimljivim knigama, serijama ili dapače što god zajednicu interesira. Komentari i kritike su dobrodošli, štoviše, potaknuti. Na kraju dana, ove male kolumne će biti pisane kada nađem nekog vremena (kad nemam baš nešto puno za raditi) i kad imam neku želju staviti svoje misli u pisani oblik (što vjerovali ili ne, se često događa u zadnje vrijeme.)
Ladies and gentlemen without further ado, možemo početi s poslom.
POČETAK
O čemu danas pišem? Pišem o jednom malom, ali u svojem smislu velikom, serijalu videoigara i mini-novela. Na naški zvan VJEŠTAC, dok na poljskom zvan WIEDZMIN , na engleskom jednostavno zvan THE WITCHER .
O novelama neću previše danas, jer je fokus javnosti većinom na videoigre koje su proizašle od poljskog developera, CD PROJEKT RED. Što su oni zapravo napravili sa ovim serijalom? Pa, hajdemo reći da su od malog grumena zlata skužili da je to zlato zapravo kila uranija, prodali ga i masno se obogatili od njega. Počevši od prve igre, WITCHER 1, tada mali poljski developer tim počeo je serijal koji će postati jedan od najprodavanijih serijala videoigara ikad.
LIKOVI
Sve ih navoditi neću, samo one najvažnije koji vam trebaju za priču + kratki opis
GERALT OF RIVIA, WITCHER
"If that's what it takes to save the world, it's better to let that world die"
Ovaj dotični mladi gospodin, zvan Geralt iz Rivije je glavni protagonist sve tri igre. Kao prvo, tko su Witcheri?
Ukratko, witcheri su ultra-badass monster killeri. Inače mladi dečki koji su bili ukrani iz sela i podliježeni raznim mutacijama i vrlo toksičnim stvarima kako bi im se dali nadljudski refleksi. Podliježu nekoliko vrsta "trial-a" kao npr. "Trial of grasses" gdje se koriste uber otrovne supstance kako bi se witcherovo tijelo otvorilo mutacijama i raznim mutagenima koji ih čine onako badass kako jesu.Witcheri uz to su otporni na SVE boleštine, imaju reflekse kao Bujanec kad poseže za gramom bijelog, vid kao soko', i žive nadprosječno dugo! Geralt od prve igre se puno promjenio u izgledu. Ovo gore priloženo je slika iz Witchera 3, dok dolje priložena slika je iz Witchera 1.
E sad, Geralt kao osoba je na prvi izgled vrlo hladan i priča u dosta monotom glasu (Witcherima skinu sve emocije tijekom njihovih mutacija i triala). Kao i svakog witchera, ne zanimaju ga previše političke priče, te se kloni mješanja u posao politikom ili drugim ljudima osim ako ga plaćaju dobro. Upamtite, witcheri su plaćeni monster-hunteri koji nisu baš voljeni u društvu običnih seljaka i velike aristokracije.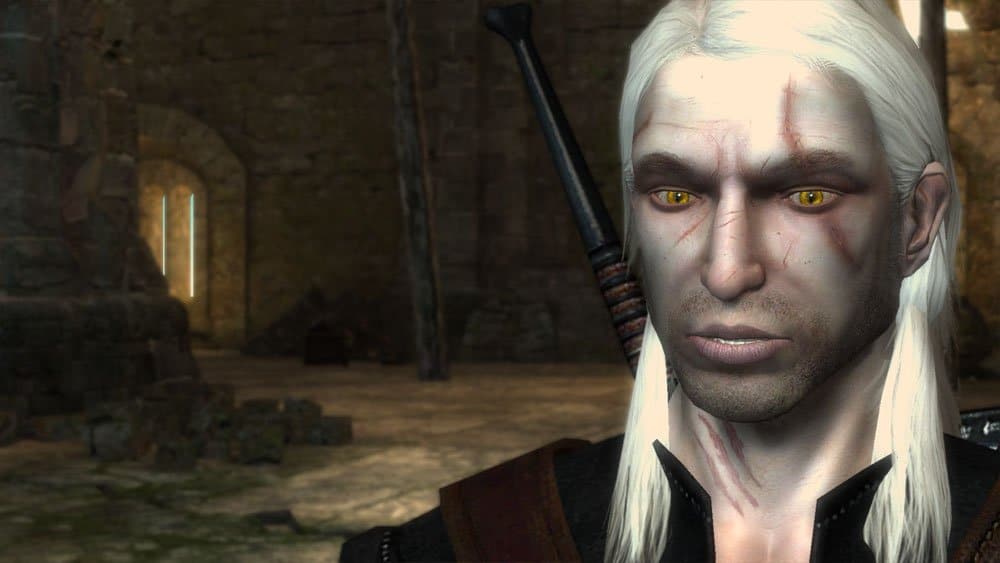 YENNEFER OF VENGERBERG
"Magic is chaos, art and science. It is a curse, a blessing and a progression"
Sad se sigurno pitate tko je ova ljepotica? Ona je naime, jedna od glavnih likova, tema igre kroz cijelu 2 i 3 igru, te samo sporedna uloga u prvoj igri. U novelama uzima ulogu jednog od dva glavna lika (uz Geralta), dok u trećoj igri također uzima ulogu jednog od glavnih likova.
Ona je također i čarobnjak (tj. na engl. Sorceress), to jest, mlada dama koja je od malih godina pokazala talent za magijom. Prema priči, sve ženske čarobnjakinje su od malena bile izrazito ružne djevojke, čiji su se roditelji odrekli jer nisu imali dovoljno novaca za hranu ili je jednostavno nisu htjeli. Kako su onda ovako lijepe kao mlada Yen prikazana na fotografiji? Sve ženske čarobnjakinje su pomoću magije "unaprijeđene" sa bombastičnim izgledom, jer ono, imaš magiju pa zašto ne. Uz to, ne mogu se razboliti od većinu bolesti, neplodne su i žive jako jako jako dugo.
Yennefer je Geraltov glavni ljubavni interes u novelama, a i u igri (ako se tako odabere). Priča seže iz prvog romana, tematski nazvanom "The Last Wish" (Posljednja želja) u kojem su se pomoću djinn-a (onaj kao u Aladinu) vezali zajedno (tj. Geralt ih je vezao zajedno kako bi spasio njezin život.), ali to je sad nebitno. U prvoj igri Yennefer se pojavljuje samo na kratko pri kraju, tako da ako itko odluči igrati neću napisati nikakve spoilere. Glavna je poanta cijele druge igre (nju se traži jer je Geralt izgubio svoje sjećanje), te kao što sam prije naveo uzima veću ulogu u trećoj igri (Slika gore je iz treće igre)
Kao osoba i kao Geraltova ljubavnica je iznimno zahtjevna, sa hladnom i odbojnom osobnosti na površini, no kad se malo prođe kroz taj vanjski dio ipak je osoba koja ima istinske osjećaje i veliku odanost prema Geraltu. Ali kao osobe su polarne suprotnosti. No kako izreka kaže "opposites attract".
TRISS MERIGOLD
"I can take care of myself, trust me"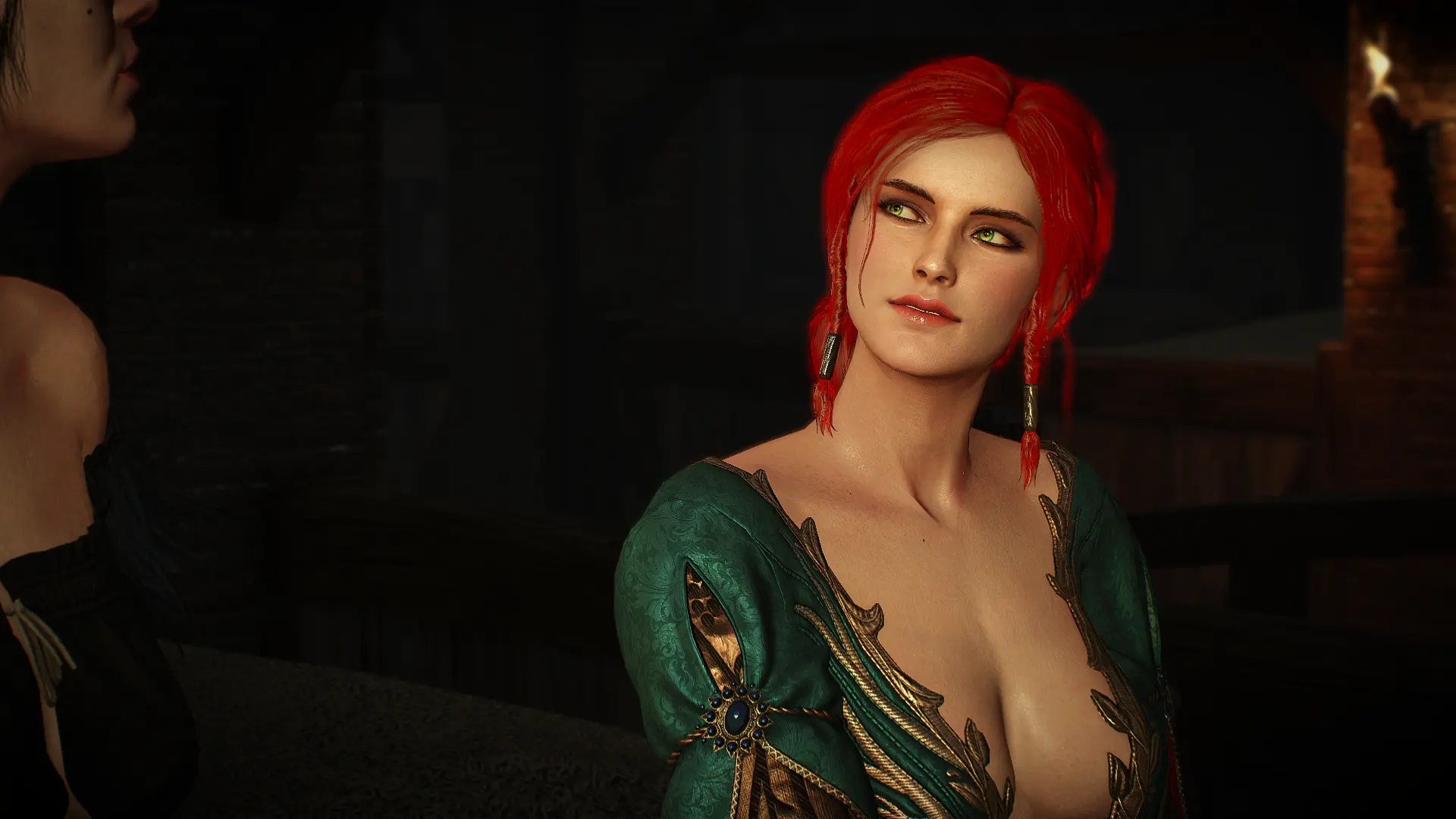 Ova ljepotica (po meni najbolja od svih!) je još jedna čarobnjakinja koja je velik lik iz novela, a i iz samih igara. Pojavljuje se prvi puta u Witcheru 1 kao savjetnik i questgiver, dok se u 2. nastavku igara njezina uloga znatno povećava, te postaje dio Geraltove družine i pomaže u njegovom cilju da vrati svoje sjećanje, i Yennefer, natrag. Uz to, ako ste i voljni, može postati Geraltov PRIMARNI romance interes tijekom druge igre, te se naravno može nastaviti tijekom treće igre. Ipak to ostavljam na vašu diskreciju.
Kao osoba ona je vrlo topla i otvorena, i istinski voli Geralta, ne kao Yennefer koja je vezana uz njega čarolijom. Ima velike ambicije, i često ju to dovodi u nevolju. Voljna je žrtvovati sve za svoje prijatelje, te se tijekom treće igre to može i vidjeti, ali uvijek ima neke skrivene motive.
Naime, ona i mnoge druge čarobnjakinje su dio političkog kabala, tj skupine čarobnjakinje zvane "The Lodge of Sorceresses", koje uvijek vole mjenjati svijet u svoju sliku. Tako da nikad nije poznato koliko je ona zapravo iskrena sa svojim motivima, a koliko radi u interesu tog "Lodge-a"
CIRILLA FIONA ELLEN RIANNON
"Know when fairly tales become real? When people start believing in them"
Ova mlada gospodična je u dvije riječi, jako posebna. Njena priča se daleko razlikuje u novelama nego u igri, zato što ću sad dati priču iz igre. Cirilla je pra-pra-pra unuka legendarne vilenjačke pobunjenice. Žene iz njezine dinastije većinom imaju nevjerojatne moći, te Ciri posjeduje moć vremena. Što to znači? Ide natrag u vrijeme ili putuje između dimenzija i takva ostala sranja. Iskreno, njena priča je užasno komplicirana, ali je dosta dobro objašnjena unutar samih igara. Ona je prema drevnom vilenjačkom proročanstvu ta koja će spriječiti kraj svijeta (Kraj svjeta u proročanstvu znači da će vječna zima progutati svijet, ništa neće rasti i demoni će slobodno lutati svijetom)
UKRATKO PRIČA
Witcher 1 počinje iz Kaer Morhena, poznatog witcherskog dvorca, te se svodi na Geraltovu čudesnu avanturu klanja čudovišta i ostalih inih sranja koje tormentiraju svijet u kojem živi. Bez otkrivanja previše, Geralt putuje kroz mnoge gradove, upoznaje ljude i sklapa prijateljstva (neka koja će trajati čak i do treće igre.) Na kraju svega nam je poznato kako se Geralt (sa Triss) zaposlio kao savjetnik kralja Temerije (Foltest), i odsjeda na njegovom kraljevskom dvoru.
S time počinje i druga igra. Naime, tu si je CD PROJEKT RED uvalio malo više para u projekt i rezultiralo je odličnom igrom koja je osvojila brojne nagrade. Geralt sa Foltestom na početku svega opsjeda dvorac kako bi spasio djecu Foltesta. Na kraju opsade, Foltesta ubije nepoznati čovjek koji je kasnije identificiran kao LETHO OF GULET, glavni antagonist igre. Geralt je smješten, te mu je dodjeljena reputacija kingslayera, te je izdan opći lov na njegovu glavu. Glavni cilj Geralta u ovoj igri je osvetiti Foltesta, očistiti svoje ime i tu i tamo ubiti koju životinjicu opasnu za lokalnu floru i faunu.
U 3. nastavku serijala Geralt vrati svoje sjećanje, te je zaposlen od strane Emhyr-a Van Emreisa (Car Nilfgaarda kojeg voice-a Charles Dance yaay
) da nađe njegovu kćer, Ciri. Kako Geralt kroz cijele TRI IGRE traga za Ciri, naravno da prihvati (jer je i njemu ona kao kćer, tj. najbliže što će imati od kćeri ikada). Tu se susreće sa mnogo starih lica, naime Yennefer, Triss i mnogi ostali koje će te nadam se, upoznati kroz igre. Geralt putuje kroz tri vrlo raznolike i vrlo šarene lokacije i rješava questove, traži Ciri, i opet, ubija životinje kako bi spasio lokalnu floru i faunu. Sve se može otkriti kroz igru.
POANTA: Priča je izvrsna. Kroz sve tri igre, i kroz sve novele. Apsolutno izvrsna. Ali svi znamo da priča nije sve što čini igru. Sad stižemo do onog ostalog.
ONO OSTALO
GRAFIKA
Hoo boy, ako će te igrati od prve igre pripremite za horror (barem vi koji malo patite na grafiku). Prva igra je stara, i to se može vidjeti iz super-arhaičnog gameplay-a i grafike. Ništa previše za reći, osim da je grafika patnja. Navikne se kroz vrijeme, iako nisam siguran 100% hoće li igra raditi na Windows 10.
Od druge igre sve se promjenilo, sa većim budžetom došla je i bolja grafika. Došao je novi engine, i svi smo kolektivno svršavali na grafiku koja je za vrijeme kad je igra izašla (2011.) je bila mrak. Ako baš patite na grafiku, onda je 2. pravo mjesto za početi. Uz to, dobije se backstory koji objasni prvu igru dosta dobro. Sigurno vrti na Windows 10, te je prva witcher igra u kojoj se mogu instalirati neki vrlo osnovni modovi sa Nexusmods-a.
Treća igra je bila vrlo velik napredak u odnosu na drugu. Grafika je uz velika obećanja dostavila i ono što je bilo predviđeno. Igra je izašla 2015. godine i dizajnirana je za jake mašine, uz razne gimmicke kao što su Nvidia hairworks. Ali svejedno, igra je izvrsno optimizirana i može se vrititi na skoro svakom kompjuteru (osim na tosterima, sorry bros.)
GAMEPLAY
Uf, u prvoj igri će te se dosta namučiti sa gameplayom. Kao što sam prije napomenuo arhaičan je za popizdit, i težak za shvatit. Nekad čak i naprosto dosadan. Ali ako ste voljni trpiti taj grozan gameplay onda ćete biti nagrađeni sa izvrsnom pričom koja vas neće razočarati. Ali bože moj, treba strpljenja. Puno puno strpljenja. Igra se vodi u malim hub-ovima kao gradovi ili dvorci ili šumski putić, i tako slično. Nisu pretjerano veliki, ali ipak ima mjesta za konstantno micanje okolo i istraživanje. Sve dok vas combat ne pukne, onda repeticija.
Witcher 2 je riješio ovaj problem što se toga tiče. Gameplay, a pogotovo combat je postao puno user friendly i simpliciraniji. Ali to ne znači da nije imao problem. Combat je vrlo "predictable" i često repetitivan, jer se većinom svodi na "udri udri udri, blokiraj, castaj sign, udri udri udri". Postoje nekoliko modova za Witcher 2 koji pokušaju popraviti to, ali iskreno ja ne vidih neku veliku razliku. Ipak, preference oko ovakvih stvari su čisto subjektivne, ali po meni (a i mnogim drugima) Witcher serijal je imao vječne probleme sa svojim combatom. Igra se svodi na malo veće hub-ove između kojih se miče između raznih aktova. Mape nisu strašno prevelike ali jesu interesantne.
Witcher 3 se trudi strašno da riješi ovaj problem, i vidjelo se to od samog početka. Combat je bio uređen, više je fluidniji i ima osjećaja iza svakog pokreta likova. Također su dodane neke nove stvari, poput crossbowa, novih efekta za signove i konjića s kojim se okolo putuje (Kako je igra, nasprem Witcheru 2 totalno open world potrebam je i konjić za malo brži movement oko mape). Combat je po meni još uvijek pun mana, ali jesu ih stvarno probali rješiti. Svako čudovište sad ima svoje određene slabosti, animacije su bolje i također postoji mounted combat koji je još uvijek malo loše napravljen (u smislu hit detekcije prvo). Ali combat se uvijek svodi, kao i u drugom djelu, na istu rutinu. Udri udri udri dok ne umre. Tu i tamo uzmi malo sip svojeg health potiona i nastavi s udaranjem.
ZAKLJUČAK: Combat je jedino što priječi ove igre da bude naj naj naj ikada. No kao što sam prije napisao, strpljenje sa combat sistemom vrlo često je nagrađena pričom koja je super.
ZAVRŠNE RIJEČI
Uf jesam se raspisao, života mi. Nadam se da će netko barem pročitati ovo sve što sam izbacio iz glave i da sam nekoga možda čak i inspirirao da kupi igre/novele ili barem da pročita na internetu nešto o tome. Ako ikoga interesiraju novele, imam prve tri knjige (od 7) za posuditi, pa tko voli nek izvoli.
Što se tiče igara, mogu ih najtoplije preporučiti svim ljubiteljima high fantasy-a, jer pošto ipak nema poštenih LOTR igara, ovo je dost' blizu. Uz to, universe koji je ovaj ludi poljak napravio čak nije ni loš. Priča je odlična, i znam da se ponavljam kao strgani kuku-sat ali moram to naglasiti. Dok je combat tu mala prepreka za neke, samo zapamtite da što idete dalje u serijalu, postaje bolji.
Uz to htio bih se zahvaliti na ovoj prilici koja mi je dana da malo se opustim pišući o stvarima koje volim. Nadam se da je vama bilo dobro čitati kao što je meni bilo zabavno pisati ovo. Sve u svemu , kao što sam naglasio na početku, ovo ću pokušati raditi kad nađem nekog vremena ili ako nađem nešto interesantno o čemu mogu malo pisati. Prijedloge također primam, ako vas zanima eksplicitno nešto što znate da sam igrao/čitao/gledao, bilo šta zapravo, samo mi se javite i napisati ću nešto i o tome.
Hvala još jednom svima koji čitaju.
PISANO DANA GOSPODNJEG, 19 PROSINCA 2017 GODINE,
~Jaime the Jew
---
Report Article